>> Friday, July 17, 2009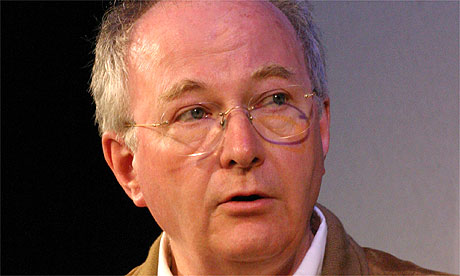 Philip Pullman (above) and other UK authors are up in arms over a new requirement for all visiting authors to be vetted by the state for past pedophilia charges before they're allowed to speak to students. Besides the overly bureaucratic and highly paranoid nature of this, there's also another slap: it costs 64 pounds (roughly $124.25). From the UK's The Guardian:

Set up in response to the murders of Jessica Chapman and Holly Wells by school caretaker Ian Huntley in 2002, the Independent Safeguarding Authority will vet all individuals who work with children from October this year, requiring them to register with a national database for a fee of £64. Pullman compared the scheme to the notorious piece of legislation section 28, which banned the "promotion" of homosexuality in schools and for which David Cameron offered a public apology last week.

"It seems to be fuelled by the same combination of prurience, sexual fear and cold political calculation," the author of the bestselling His Dark Materials trilogy said today. "When you go into a school as an author or an illustrator you talk to a class at a time or else to the whole school. How on earth – how on earth – how in the world is anybody going to rape or assault a child in those circumstances? It's preposterous."
Other authors point out that visiting authors are never alone with children, and I can say that this is almost entirely the case. I can't think of a time in the perhaps sixty some odd school visits I've done where I would have had any chance to take advantage of a student should I have been so inclined.
Some authors, like Pullman, have sworn they will never do school visits in the UK again over this. UK Children's Laureate Anthony Browne
thinks authors shouldn't be any exception to the rule
, and is asking for compliance. Others, like Adele Geras, think the whole thing is nonsense, but enjoy school visits too much to "take a principled stand."
Children's author Adele Geras called the scheme "lunatic". "They ought to be able to refine this legislation to make exceptions for people who see huge groups together," she said. "One is never alone with a single child – one is never alone with a vast number of children. The smallest number would be 32, and there are always two to three teachers."

But Geras said she would be prepared to register and pay the £64 in order to continue speaking in schools. "I would love to take a principled stand but I enjoy doing it," she said. "And there are an awful lot of people who'll feel more strongly that I do who can't afford to take a principled stand because school visits will be the bread and butter of their work."
Amen to that. School visits are a significant part of my income as a writer. They are, in fact, what allows me to be a full time writer. If such a thing were instituted here in the States, I would almost be forced to comply. I know there are some states and counties enacting some measures here in America--when I taught in Pennsylvania, I was required to have an FBI background check done on me, which I paid for!--but so far it's not terribly widespread, that I know of.
I understand the concern here, I really do. And no child should be put at risk for the sake of making things easier or cheaper on me or any other author. I'm just with Pullman and others on this--I don't think there is a risk. Not in school visits for authors. We just don't have the kind of access that such horrors would require. In almost every visit I've done, I'm dizzy from being moved about from place to place, and never meet with children individually. That the plan has no exceptions is undoubtedly easier for the department tasked with putting this measure in action, but overkill for everyone else--particularly guest speakers. It's a shame it will mean fewer author visits for their students.
What do you think? Legislative overkill, or author overreaction?